News — modern mens fashion
• best yoga shorts • breathable yoga shorts • comfortable workout shirts • comfortable yoga wear • cotton shorts • cotton yoga shorts • durable yoga shorts • fashion and functionality • fitness and style in yoga • fitness fashion for men • flexibility in yoga shorts • functional workout design • gym to street style • high performance workout clothes • hot yoga • hot yoga attire • hot yoga shorts • male fashion statements • mbody • MBODY mens collection • mbody mens yoga clothing • mbody yoga clothing • mens active lifestyle • mens active wear for yoga • mens activewear • mens fashion for yoga • mens fitness apparel • mens fitness clothing • mens hot yoga shorts • mens performance wear • mens style guide • mens workout shorts • mens yoga clothing • mens yoga fashion • mens yoga fashion trends • mens yoga shorts • modern mens fashion • perfect fit yoga shorts • performance enhancing workout clothes • premium yoga apparel • quality workout gear • shorts for hot yoga • versatile mens yoga shorts • versatile workout clothes • workout gear for men • yoga apparel • yoga apparel for men • yoga apparel for modern yogis • yoga attire for men • yoga bottoms for men • yoga brands for men • yoga clothing essentials • yoga clothing for active lifestyles • yoga clothing for confident practice • yoga clothing for physique accentuation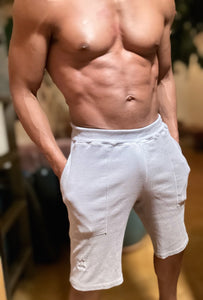 These shorts are designed to strike the perfect balance between casual wear and yoga performance. With a variety of lengths, fits, and waistbands, you'll find the perfect pair that matches your personal style. Whether you're into classic solids or bold patterns, there's a pair that's tailor-made for you.
---
• ancient traditions in moder fashion • bead bracelet • beads in mens fashion • history of mala beads • jewelry beads • jewelry fro men • mala beads • male fashion statements • male jewelry • mantras and mala beads • MBODY • MBODY accessories • meditation accessories • mens style guide • mens yoga fashion trends • modern mens fashion • necklace beads • prayer beads • spiritual fashion fusion • spiritual jewelry • yoga fashion trends • yoga meditation tools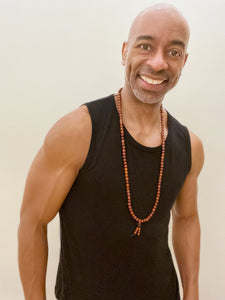 Mala beads aren't just pieces of 'jewelry beads' strung together. Traditionally, they're a set of 108 beads used to count mantras during deep meditative practices. They've been the go-to for seekers looking to add a touch of the tangible to their intangible journey.