News — cotton yoga shorts
• best yoga shorts • breathable yoga shorts • comfortable workout shirts • comfortable yoga wear • cotton shorts • cotton yoga shorts • durable yoga shorts • fashion and functionality • fitness and style in yoga • fitness fashion for men • flexibility in yoga shorts • functional workout design • gym to street style • high performance workout clothes • hot yoga • hot yoga attire • hot yoga shorts • male fashion statements • mbody • MBODY mens collection • mbody mens yoga clothing • mbody yoga clothing • mens active lifestyle • mens active wear for yoga • mens activewear • mens fashion for yoga • mens fitness apparel • mens fitness clothing • mens hot yoga shorts • mens performance wear • mens style guide • mens workout shorts • mens yoga clothing • mens yoga fashion • mens yoga fashion trends • mens yoga shorts • modern mens fashion • perfect fit yoga shorts • performance enhancing workout clothes • premium yoga apparel • quality workout gear • shorts for hot yoga • versatile mens yoga shorts • versatile workout clothes • workout gear for men • yoga apparel • yoga apparel for men • yoga apparel for modern yogis • yoga attire for men • yoga bottoms for men • yoga brands for men • yoga clothing essentials • yoga clothing for active lifestyles • yoga clothing for confident practice • yoga clothing for physique accentuation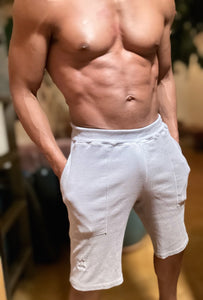 These shorts are designed to strike the perfect balance between casual wear and yoga performance. With a variety of lengths, fits, and waistbands, you'll find the perfect pair that matches your personal style. Whether you're into classic solids or bold patterns, there's a pair that's tailor-made for you.
---
• best yoga shorts • breathable yoga shorts • choosing the right yoga shorts • choosing yoga outfit • cotton • cotton shorts • cotton yoga shorts • durable yoga shorts • fitness and style in yoga • fitness fashion for men • flexibility in yoga shorts • functional workout design • gym to street style • high performance workout clothes • MBODY mens collection • mbody yoga clothing • mens active lifestyle • mens activewear • mens fashion for yoga • mens fitness clothing • mens performance wear • mens workout shorts • mens yoga clothing • mens yoga fashion • mens yoga fashion trends • mens yoga shorts • perfect fit yoga shorts • performance enhancing workout clothes • power yoga apparel • premium yoga apparel • quality workout gear • versatile mens yoga shorts • versatile workout clothes • workout gear for men • yoga apparel for men • yoga bottoms for men • yoga brands for men • yoga clothing shopping guide • yoga clothing trends • yoga performance enhancement • yoga shorts • yoga shorts fabric options • yoga shorts styles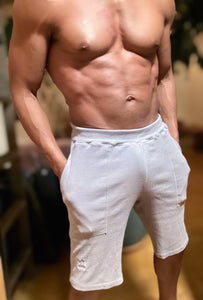 Crafted from a blend of premium cotton and spandex, the Comfort Shorts offer an exquisite balance between softness and stretchability. You know that feeling when your yoga shorts seem to move in sync with you, effortlessly matching your every move? That's what we've aimed for here. The comfort derived from the cotton, coupled with the flexibility of spandex, is like a match made in yoga heaven.